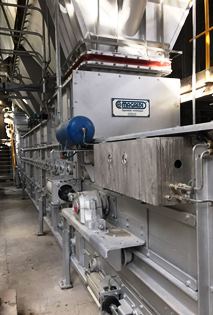 In January 2016, Magaldi Power SpA had been awarded a contract by ACEA - one of the leading Italian multi-utility firms - for the wet-to-dry conversion of the bottom ash handling system at San Vittore del Lazio waste-to-energy plant.
Designed to thermally convert about 400,000 tons per year of RDF (refuse derived fuel), the WtE plant is provided with 3x54 MWth combustion lines.
On the combustion lines #2 & 3, the bottom ash handling system was originally wet and equipped with two submerged "Apron-based" conveyors to handle the wet bottom ash from the discharge of the combustion grate to a temporary storage pit.
Magaldi retrofitted the twin combustion lines by installing its dry Ecobelt® WA technology.
Each combustion line is equipped with two Ecobelt® WA conveyors to extract and cool down by ambient air both the bottom ash and the siftings. Downstream the conveyors, the ash is conditioned by using a small amount of water to keep the dust down and allow a safe transportation to the metal recovery facility.
The main benefits from the installation of the Ecobelt® WA include:
- Zero water usage for the ash extraction and cooling process;
- Reduction of the costs for the ash transportation and disposal;
- Complete elimination of the costs associated to the water treatment;
- Recovery of ash sensible heat and chemical energy back to the boiler.
You are very welcome to have a look at Magaldi's technologies on our YouTube Channel https://www.youtube.com/channel/UCKaOxa9hC71EsZYiKpGIU2g/playlists