Certificates
Magaldi applies the most advanced manufacturing methods to produce high-quality products, ensure the highest safety levels for workers and employees, and comply with the strictest environmental policies.
As a result, the firm has obtained the following certifications:
UNI EN ISO 9001 (quality management process)
UNI EN ISO 3834 (welding quality system)
UNI EN ISO 14001 (environmental management system)
UNI EN 1090 (CE marking conformity for structural components).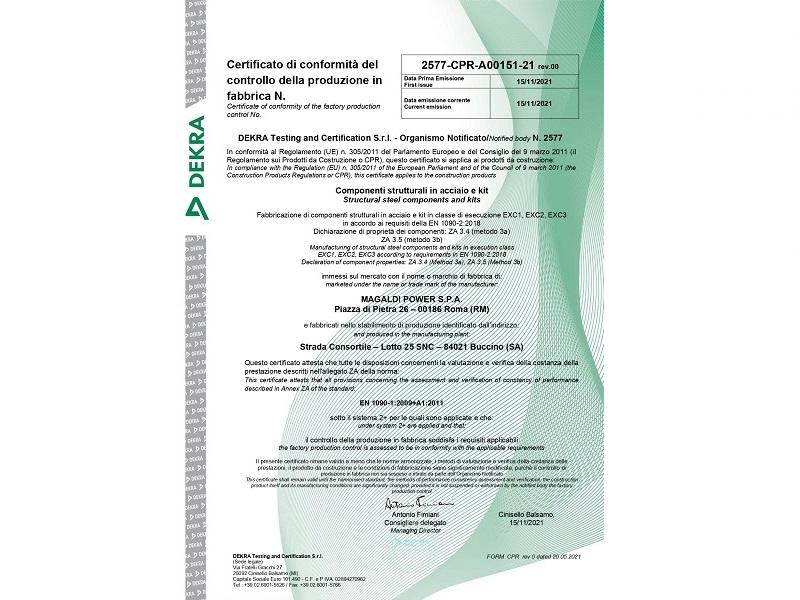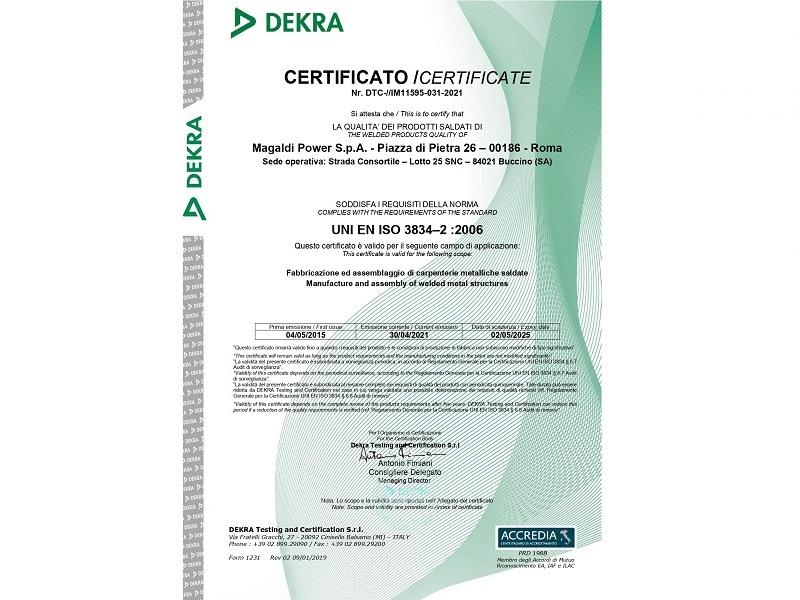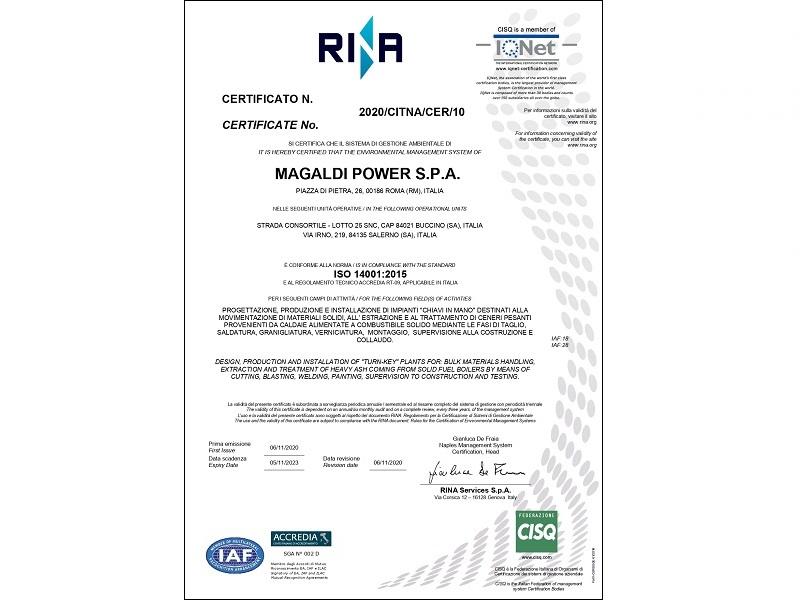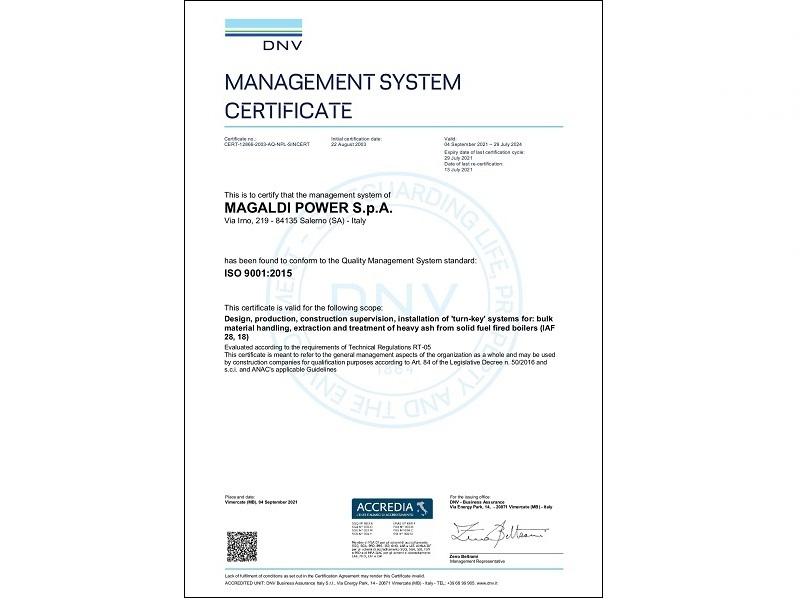 World-class patents
Magaldi is a dynamic and ever-growing company whose founding values are continuous innovation and reliability.
The company has always focused its efforts on the research and development of innovative and proprietary technological solutions, filing several patents and trademarks covering its core technologies.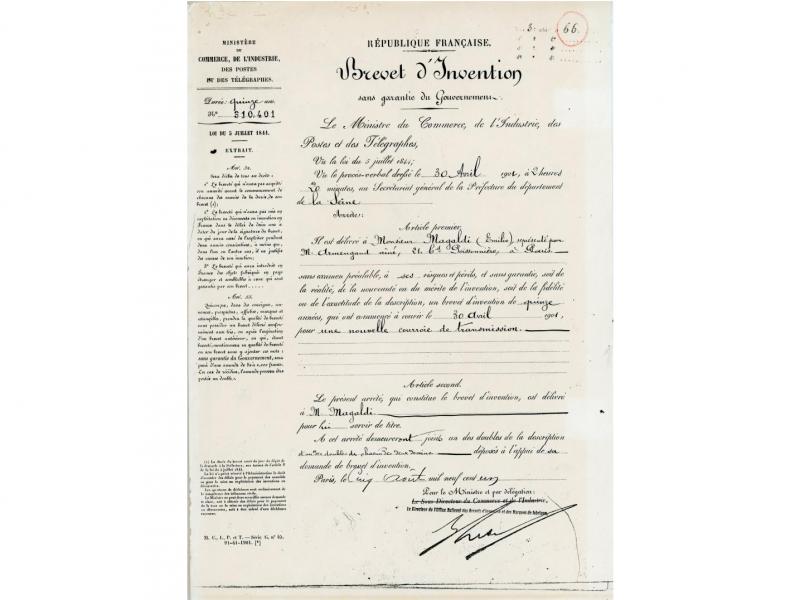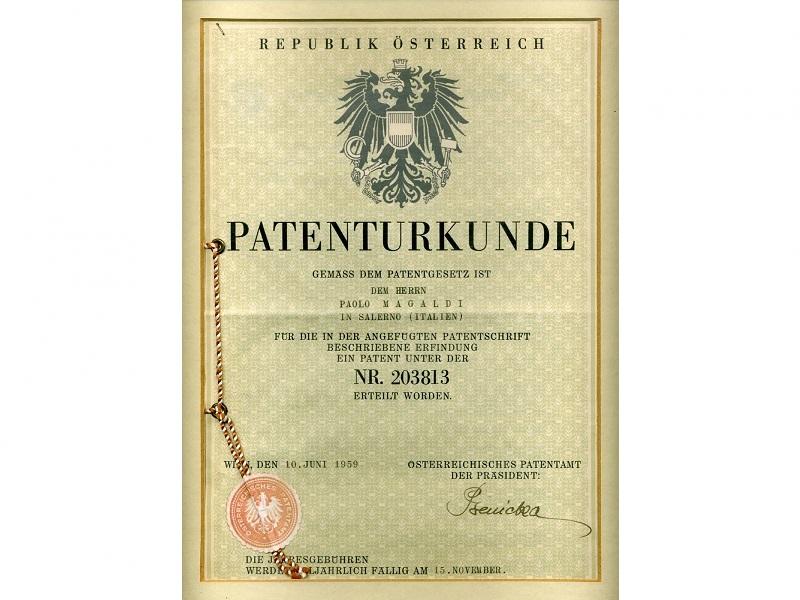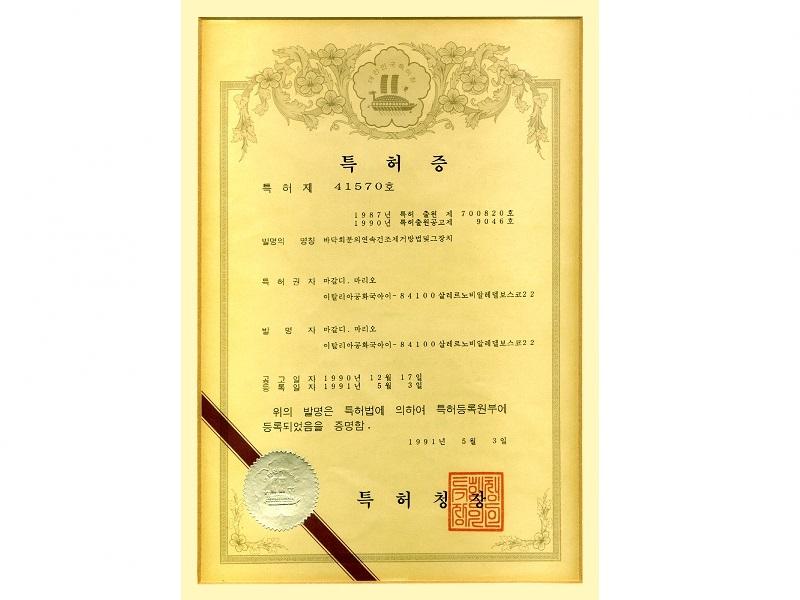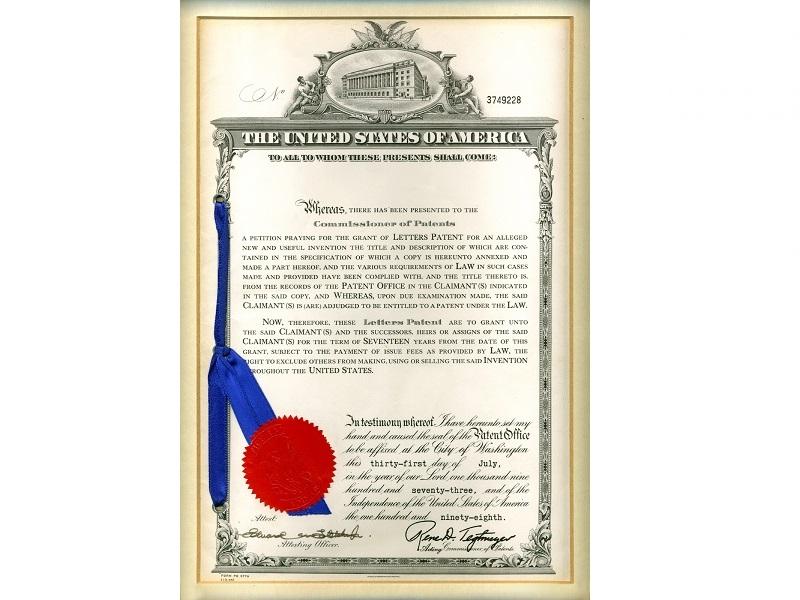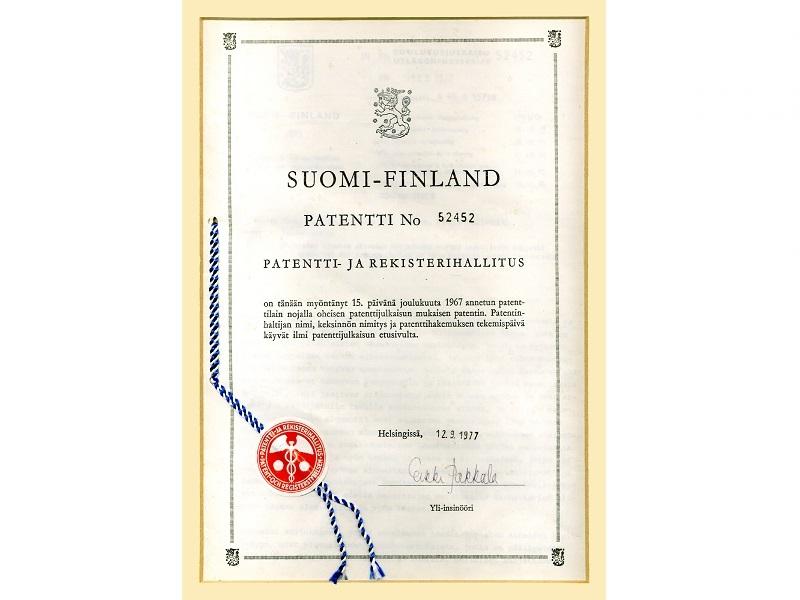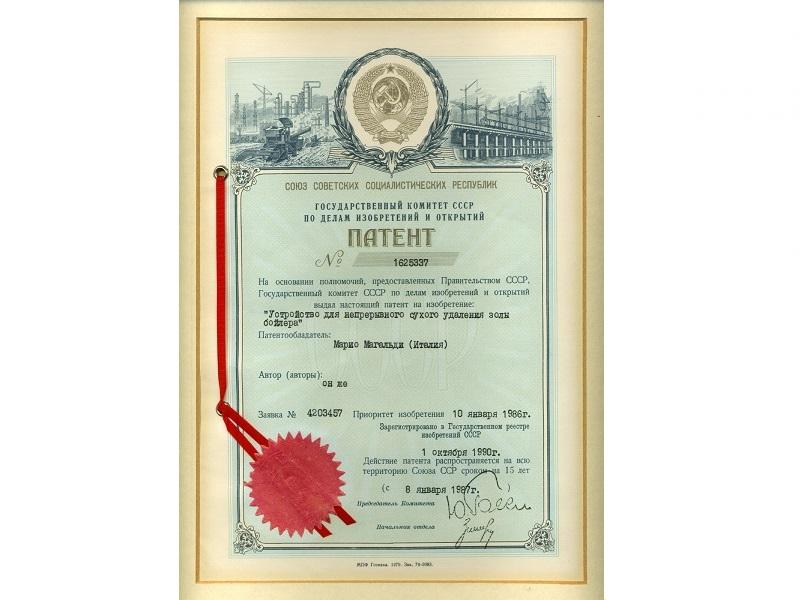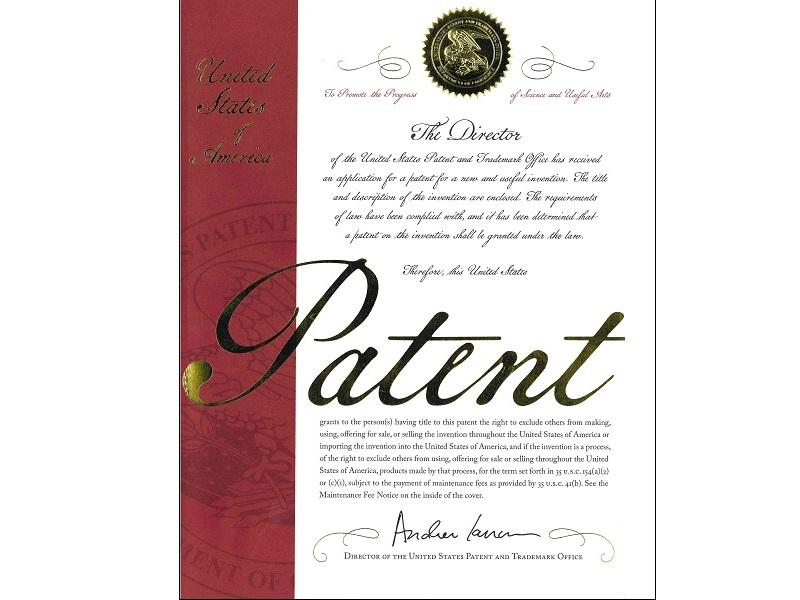 Virtual patent marking
This listing is intended to provide notice under Title 35 U.S.C. Section 287 (a) according to the amended requirements of the Leahy-Smith America Invents Act of 2011, as well as to provide notice as required by global legislation. This list may not be all-inclusive and there may be additional patents pending.
MAC® system - Magaldi Ash Cooler
| Patent Number | Country |
| --- | --- |
| 012796 | Eurasia |
| 2032899 | Europe (Germany, Poland, Romania), Turkey |
| 10-1469003 | South Korea |
| 5558098 | Japan |
| 290874 | India |
| 314257 | Mexico |
| 8833277 | USA |
MAR® system - Magaldi Ash Recycling
| Patent Number | Country |
| --- | --- |
| 1779036 | Europe (Germany, Poland), Turkey |
| 200580027160 | P.R.C. |
| 10-1222144 | South Korea |
| 4861318 | Japan |
| 279449 | Mexico |
| 2419742 | Russia |
| 2007/00195 | South Africa |
| 8091491 | USA |
| 256979 | India |
MRS® system - Magaldi Mill Rejects System
| Patent Number | Country |
| --- | --- |
| 1789727 | Europe (Germany, Poland) |
| 10-1214017 | South Korea |
| 5160223 | Japan |
| 254092 | India |
| 8371794 | USA |
| 271236 | Mexico |
Magaldi O-chain
| Patent Number | Country |
| --- | --- |
| 50602 | Chile |
| I552938 | Taiwan |
| 019065 | Kazakistan, Russia |
| 2285714 | Europe (Austria, Belgium, Denmark, Finland, France, Germany, Italy, The Netherlands, Poland, Czech Rep., Romania, Slovakia, Spain, Sweden), UK, Switzerland, Liechtenstein, Turkey |
| 2009247592 | Australia |
| 0912631-7 | Brazil |
| 019065 | Eurasia |
| 2724218 | Canada |
| 102066216 B | P.R.C. |
| 10-1647516 | South Korea |
| 5656829 | Japan |
| 324473 | India |
| 327118 | Mexico |
| 2010/08862 | South Africa |
| 8567594 | USA |
Ecobelt® WA (Waste Ash)
| Patent Number | Country |
| --- | --- |
| I609154 | Taiwan |
| 2013291543 | Australia |
| 029115 | Eurasia, Kazakistan, Russia |
| 2875289 | Europe (Austria, Belgium, Denmark, Finland, France, Germany, Norway, The Netherlands, Poland, Czech Rep., Romania, Spain, Sweden), UK, Switzerland, Liechtenstein, Turkey |
| 2876142 | Canada |
| 201380035068.7 | P.R.C. |
| 10-2105083 | South Korea |
| 1-2015-500109 | Philippines |
| 6197035 | Japan |
| 365646 | Mexico |
| 2015/00360 | South Africa |
| 10337734 | USA |
| 102012902070691 | Italy |
Superbelt® PRZ - conveyor belt with overlapping planar surface
| Patent Number | Country |
| --- | --- |
| 0617593-7 | Brazil |
| 5144520 | Japan |
| 289965 | Mexico |
| 7958991 | USA |
| 013277 | Russia |
| 1937575 | Europe (Germany, Italy, Poland, Czech Rep., Spain, Sweden) + UK + Turkey |
Ecobelt® B (Patent pending)
| Patent Number | Country |
| --- | --- |
| 102021000007001 | Italy |
Device and method for storage and transfer of thermal energy
| Patent Number | Country |
| --- | --- |
| 103557601 B | P.R.C. |
| I558961 | Taiwan |
| 0003869 | Gulf Countries |
| 2011246933 | Australia |
| 112012027817-7 | Brazil |
| 53877 | Chile |
| 222742 | Israel |
| 334855 | Mexico |
| 8960182 | USA |
| 1189263 | Hong Kong |
| 2564127 | Europe (Albania, France, Germany, Greece, Italy, Portugal, Spain ) + UK + Malta + Cyprus + Switzerland + Liechtenstein + Turkey |
| 0080977B1 | Argentina |
Device, plant and method with high level of energy efficiency for storing and use of thermal energy of solar origin
| Patent number | country |
| --- | --- |
| 2013/02645 | South Africa |
| 10-1914800 | South Korea |
| 5868411 | Japan |
Energy-efficient high-level device, plant, and method for the use of thermal energy of solar origin
| patent number | country |
| --- | --- |
| 105597 B1 | Argentina |
| 3332177 | Europe (France, Germany, Greece, Italy, Portugal, Spain), Cyprus, Malta, UK, Turkey, Switzerland, Liechtenstein |
| 374591 | Mexico |
| 2018/00448 | South Africa |
| 10634124 | USA |
| 60981 | Chile |
Device, plant and method for the storage and transfer of thermal energy of solar origin
| patent number | country |
| --- | --- |
|  102018000007998 | Italy |
Plant and method for the accumulation of energy based upon a fluidized bed
| patent number | country |
| --- | --- |
| 102019000007416 | Italy |