Solutions provider for the aluminum industry
In response to the increasing global demand for processed recycled metals, Magaldi has put its extensive know-how in complex material handling systems at the service of the unique needs of aluminum secondary smelters/recycling plants.
Magaldi bulk material handling solutions integrate seamlessly with the scrap management and recycling processes in secondary aluminum production, or aluminum recycling.
In particular, they suit cold scrap conveying and hot aluminum shreds transport. The smooth running of those processes is largely reliant on the reliability of the conveyors that interlink the different stages of production. That is why Magaldi conveyors are one step ahead: they offer a range of benefits over conventional technologies that set us apart from all the others:
- High reliability
- Increased uptime
- Class-leading performance
- Greater process streamlining and control
- Outstanding energy savings
- Low O&M costs
- Low noise emissions
- Safe operations
- Environmental sustainability
- Long service life.

Hot shredded scrap conveying
Hot shredded scrap conveyor
Aluminum recycling plants
The Ecobelt® conveyor transports hot shredded scrap from the decoating kiln to the melting furnace.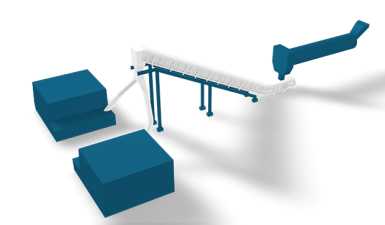 Shredder infeed/outfeed conveyor
Aluminum recycling plants
The Superbelt® conveyor is used for feeding aluminum scrap to and from the shredder, delivering top performance with minimum maintenance.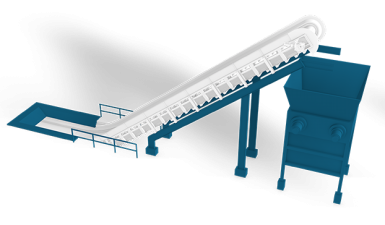 An installed base of 1,500+ machines and systems worldwide