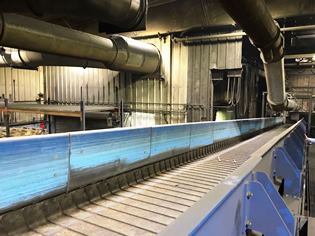 In 2015, Victaulic - the leading producer of mechanical pipe joining solutions – asked Magaldi to replace the existing vibratory conveyor installed in the scrap charging bay, causing a production loss problem due to excessive downtimes and an unhealthy dust dispersion into the work environment.
At the beginning of 2016, Magaldi installed at the Victaulic iron foundry in Alburtis, PA, its Superbelt® P type conveyor to handle sprues and scraps from the scrap yard to the charging car, solving both problems of dust pollution and frequent outages.
In fact, the Magaldi Superbelt® is a dependable steel belt conveyor able to avoid incidental shutdowns thanks to its unique design without chains and sprockets. Moreover, it does not vibrate or shake nor generate dust thanks to the smooth operation and it runs at a very low noise level <65 dB(A), thus contributing to an healthy and more comfortable work environment for plant operators.