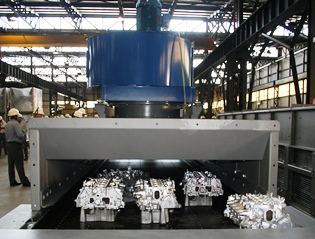 Nemak, the Mexican leading provider of light-weighting solutions for the global automotive industry, was looking for a reliable technology able to cool down the aluminium cylinder heads produced in its plant in Monterrey.
After theoretical studies and experimental tests on real representative aluminium castings, conducted in close teamwork with the client, Magaldi was able to properly design an air-cooling system optimized for aluminium castings.
Persuaded by the excellent results, Nemak awarded Magaldi with the supply of two Magaldi Casting Coolers (MCC®).
Installed downstream different production lines, the MCC® are able to cool down the aluminium cylinder heads from 320°C to lower than 80°C. In fact, the belt speed and the air capacity are studied to properly cool castings down at the required temperature, avoiding any delay on the up-streaming carousel.
Magaldi guaranteed the belt as well as the cooling performances for 5 years.
You are very welcome to have a look at Magaldi's technologies on our YouTube Channel https://www.youtube.com/channel/UCKaOxa9hC71EsZYiKpGIU2g/playlists