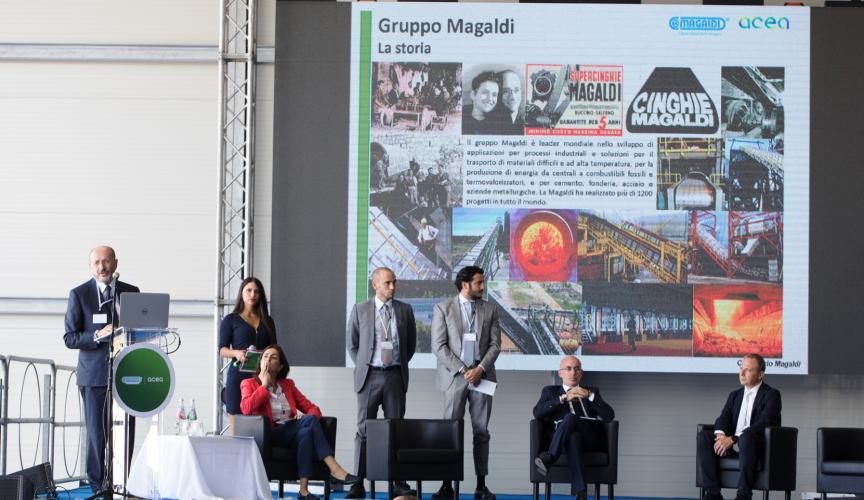 Last 05th October, the Waste-to-Energy plant of San Vittore del Lazio – owned by the Italian multi-utility firm Acea SpA – was the scenario of the Magaldi WtE Open Day.
Since years, Magaldi Group - leader in supplying dependable systems to mechanically handle materials under the toughest process conditions – has affirmed its presence in the waste-to-energy sector by providing its dry technology, known for its dependability and sensitivity to environmental issues, to worldwide plants burning waste to produce electrical and/or thermal energy.
Organized by Magaldi Group in cooperation with ACEA Ambiente, the event was attended by the main national and international players in the waste-to-energy sector. More than 120 guests from major italian firms operating in the renewables (among them Herambiente, A2A, Iren Energia, Falck Renewables), as well as international guests from Japan (Kawasaki Heavy Industries) to Azerbaijan (Tamiz Shahar JSC), from France (CNIM) to Germany (Doosan Lentjes GmbH), participated to the technical debate on the advantages of the dry system to extract and convey bottom ash from waste incineration and, in particular, on the dependable Ecobelt® WA technology developed by Magaldi and installed at the WtE Plant of San Vittore del Lazio, too.
After the welcome by ACEA and Magaldi, the event got straight to the heart by presenting the advantages of the "dry" system to extract and convey bottom ash from waste incineration on mobile grids, rotating drums or fluidized beds.
Compared to traditional "wet" systems, the Ecobelt® WA ensures:
Zero water usage. No danger of contamination by heavy metals. Decreased amount of bottom ash and so deduction of its disposal costs;
Possibility to recover ferrous and non-ferrous metals from dry bottom ash, allowing access to small particles (<5mm);
"Damage-tolerant design" of the Magaldi Superbelt® conveyors, ensuring high system dependability, low wear, low power demand, noise level <65 dB(A), low O&M costs, long service-life, total safety for operators;
Boiler efficiency improvement due to recovery of ash enthalpy in the form of sensible heat.
These advantages have been witnessed, not only by ACEA Ambiente but also by the Top Management of GESPI and KEZO, respectively owners of the WtE plants in Augusta (Sicily) and Hinwil (Switzerland) and users of the Ecobelt® WA technology, and RENDINA Ambiente which is implementing a project with Magaldi for the supply of an Ecobelt® WA for its plant in Melfi.
Witnesses highlighted Magaldi's capability to provide tailored solutions to meet the most demanding needs of different Customers, served from the feasibility study to the installation up to the after-sales service.
The Magaldi WtE Open Day carried on with the tour of line #3 of the WtE plant in San Vittore del Lazio, one of the largest plants in Italy, equipped with three incineration lines – each of about 54MWth – and a total authorized capacity of 397,200 tons/y of CSS (secondary solid fuel).
Magaldi was asked to retrofit lines #2 and #3, replacing two submerged chain conveyor (SCC) systems with two Ecobelt® WA, thus avoiding the use of water and decreasing the bottom ash amount and its related disposal costs.