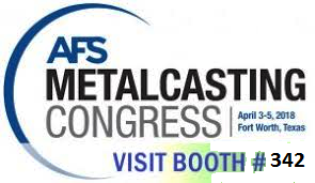 Magaldi Technologies LLC is pleased to invite you to join us at our Booth #342 during the 122nd Metalcasting Congress that is being held in Fort Worth, TX from April 3rd to 5th.
Sponsored by the American Foundry Society (AFS), the Metalcasting Congress is North America's largest event for the metalcasting industry, combining an exhibition of industry suppliers with technical presentations from the main experts around the world.
Magaldi, world's leading manufacturer of steel belt conveyors to handle materials under the toughest process conditions (e.g. high temperatures, heavy loads, bulk, grain or abrasive materials), will be glad to present its wide range of proprietary technologies.
The Company boasts more than 1,500 installations worldwide, in industries where high dependability is essential.
Focusing on North American markets, among 50 steel belt conveyors are currently running, 35 of them are installed in foundries.
For the metalcasting industry, Magaldi's area of expertise ranges from casting cooling and conveying to shot-blasting loading/unloading, hot sand conveying, de-gating and sorting, sprue crusher feeding, mold dump conveying, furnace feeding.
Tailored to the customer requirements, Magaldi technologies overcome problems caused by traditional conveying systems (e.g. Apron technology or vibrating systems), guaranteeing high dependability, excellent performance, minimum O&M costs, reduction in overall crystalline silica dust contamination, no vibrations and a noise level <65 dB(A) thus contributing to an healthier and safer work environment.
Thanks to continuous investments in R&D, Magaldi is constantly developing new technological solutions as in the case of the SuperMCC®, an enhanced version of the MCC® (Magaldi Casting Cooler), able to improve cooling performance in a tighter space.
For in-depth information about Magaldi technologies, we warmly welcome you at our booth #342.
AFS Metalcasting Congress (April 3-5, 2018)
Fort Worth, Texas
Booth #342
http://www.afsinc.org/MccLanding.cfm