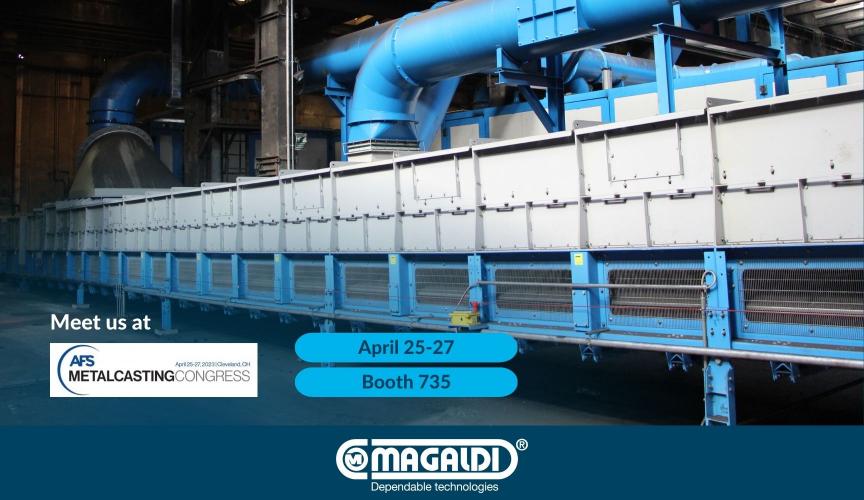 Magaldi Technologies LLC is pleased to announce its participation in the Metalcasting Congress 2023, which will be held at the Indiana Convention Center in Indianapolis, IN from April 25-27.
Promoted by the American Foundry Society (AFS), the Metalcasting Congress is an annual gathering of professionals in the metalcasting industry, providing a platform for new technologies and innovations to be showcased.
Magaldi will be presenting its pioneering conveyor solutions, including the renowned Magaldi Casting Cooler (MCC®), a highly engineered system that efficiently manages the safe transport and controlled cooling of castings. Our team of experts will be on hand to discuss the unique features and benefits of the MCC® and the Superbelt® conveyor technology. Tailor-made to meet the specific requirements of each served application, our conveyors ensure:
utmost reliability
leading performance
low operating costs
environmental protection.
Magaldi's attendance at the Metalcasting Congress 2023 is part of the company's ongoing efforts to connect with industry leaders, share knowledge, and promote sustainable practices in the metalcasting industry. The company is committed to delivering superior solutions that help its customers succeed in today's competitive marketplace.
We look forward to meeting you at booth 735 and showcasing our pioneering technology and solutions that drive efficiency, productivity, and sustainability in the metalcasting industry.