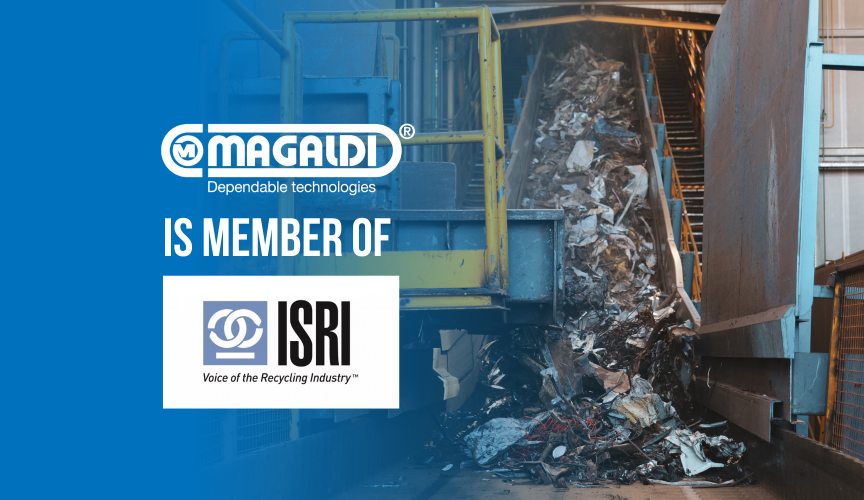 Magaldi firmly believes that the recycled materials industry is the answer to providing the critical raw materials that industries need to produce the everyday objects and essential infrastructure we all depend on. In a few words, recycling keeps the global supply chain moving!
We chose to be part of ISRI - Institute of Scrap Recycling Industries - for at least a couple of reasons:
The recycled materials industry is constantly evolving, and we are constantly inventing new cutting-edge technologies to support this evolution and to sort and recycle more metals more efficiently;
It is economically sustainable and environmentally responsible for all of us to strengthen a recycling network to provide engineered solutions to the Climate Crisis and build a better future for our planet.
ISRI is the Voice of the Recycling Industry™, promoting recycling through networking, advocacy, and education.
Magaldi Power offers an array of heavy-duty steel belt conveyors to streamline the scrap handling process in metal recycling and steelmaking plants.
With Magaldi Technologies LLC, the Magaldi Group intends to consolidate its presence in North America, where many customers have already adopted its leading technologies.
Scrap value, labor savings, energy consumption, and workers' safety are all factors that are affected, for better or worse, by the scrap handling system. Magaldi conveyor belts, based on Superbelt® technology, guarantee trouble-free continuous operation, reduced equipment jams and downtime, improved safety and no spillage, low energy requirements, and little or no maintenance.
Magaldi Technologies LLC will attend the ISRI Convention & Exhibition from 17 to 20 April 2023, Booth 2124.
Please find out more about our Sustainability Statement here.