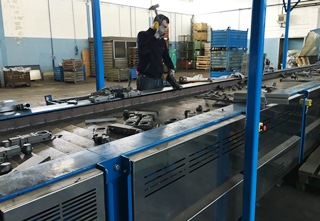 In 2016, Volkswagen Mexico awarded Magaldi the supply of a Superbelt® conveyor to load a new Pangborn shot-blasting machine recently installed in its iron foundry in Puebla.
The Magaldi Superbelt® conveyor has replaced the existing chain conveyor which was suffering maintenance problems and frequent production outages.
Installed downstream an existing vibro-feeder that unloads the iron castings onto the belt, the first half of the Superbelt® conveyor is flat to allow operators, located at both sides of the conveyor, to de-gate and sort castings in a safe and ergonomic way.
Some intermediate curve sections incline the second half of the conveyor at 30° to feed the continuous Pangborn shot-blasting machine.
Magaldi recognized a three-year mechanical warranty for the supplied conveyor even if its expected working life is much longer.
You are very welcome to have a look at our YouTube Channel https://www.youtube.com/channel/UCKaOxa9hC71EsZYiKpGIU2g/playlists.