The MAR® system
(Magaldi Ash Recycling)
An innovative system for turning bottom and ECO ashes into saleable fly ash
Coal bottom ash and ECO ash show great potential to produce value-added materials.
Thanks to the MAR® system, they can be turned from a costly waste to be disposed of into a valuable coal combustion product (CCP) used in cement or concrete production.
The MAR® system can be implemented in new projects or as a retrofit, replacing conventional wet systems with a MAC® (Magaldi Ash Cooler) + MAR® system package.
Dry bottom ash, extracted and cooled by the MAC® system, and ash from ECO hoppers are pneumatically transported and stored in small reception bins installed at the coal bunkers level.
The ash is then extracted by tubular vibro-feeders and dosed to the coal mill feeding hoppers before being milled with coal by pulverizers and injected into the boiler through coal burners.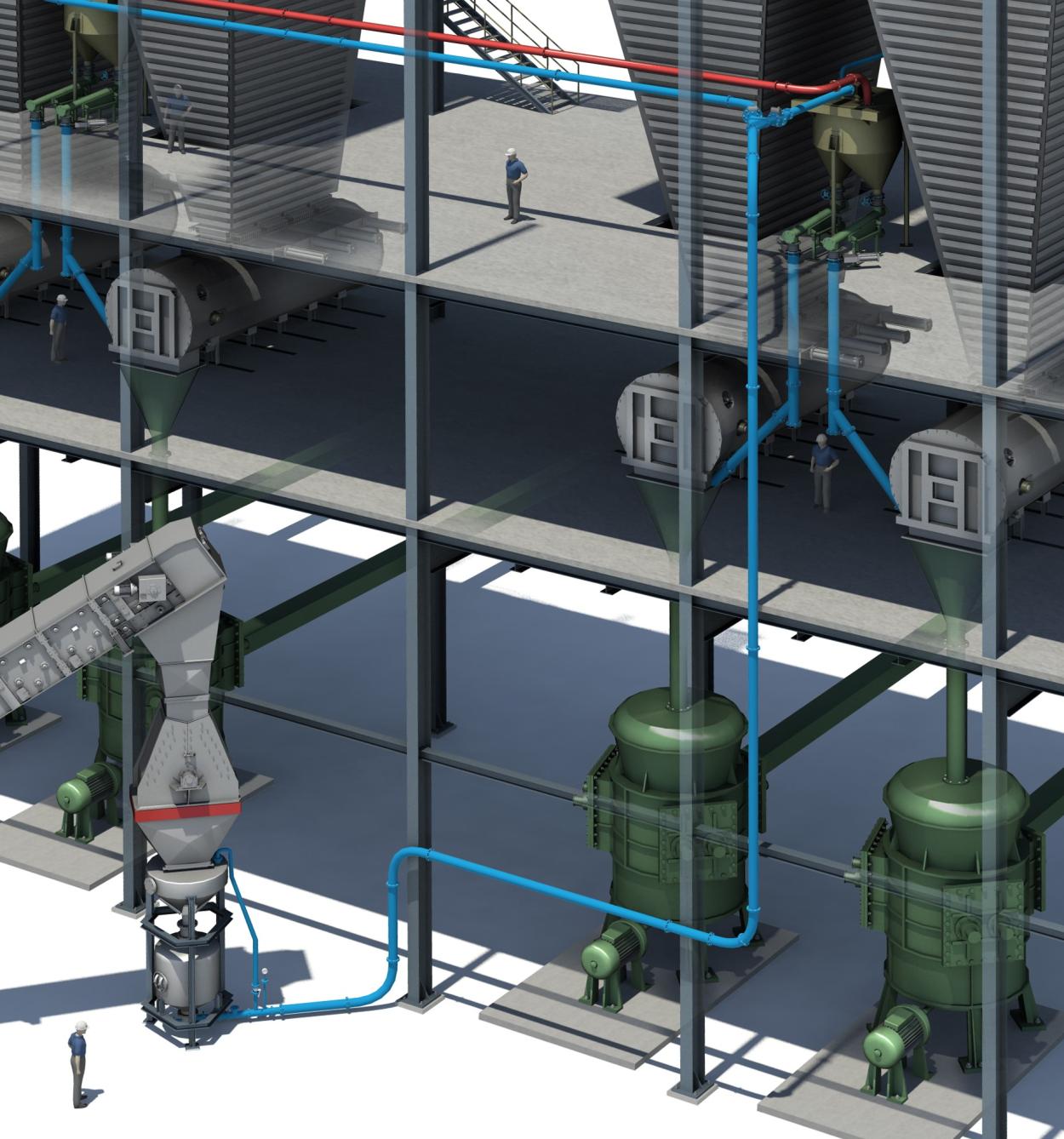 No bottom ash disposal costs
Fly ash and bottom ash have different characteristics (mainly in terms of particle size and shape). For this reason, two separate disposal systems are typically required (with different silos and conveying system technologies).
The conversion of all bottom and ECO ash into fly ash allows the elimination of all costs associated with ash transport from the local silo to the final disposal area. Power plant operators must only take care of fly ash disposal.
Bottom ash conversion into saleable fly ash
The MAR® system ensures the valorization of both bottom and ECO ash, turning a waste product into wealth since fly ash is more easily saleable.
In compliance with international standards, fly ash can be used as a type II addition (pozzolanic or latent hydraulic additions) to concrete, while the bottom and ECO ash can be typically used only as a type I addition (inert material).


Using CCPs in cement or concrete production allows for preserving natural resources and decreasing GHG emissions (approx. 0.9 tons of CO2 for each ton of fly ash used), thus reducing the environmental impact of cement/concrete manufacturing.
Ash recycling improves the overall fly ash quality, leading to a reduction of the unburnt carbon content due to the dilution effect of dry ash.
Negligible impact on coal pulverizer wear
Bottom ash recycling has a negligible impact on grinding elements of the coal pulverizer and no appreciable effects on coal pipes and burners. It is possible also thanks to the MAR® logic control system that adjusts the dosed ash rate as a function of the actual coal feed rate, allowing to keep as fixed as possible the ash-to-coal ratio to coal pulverizers.
Some successful stories
Italy
Dry bottom ash recycling
Coal-fired power plant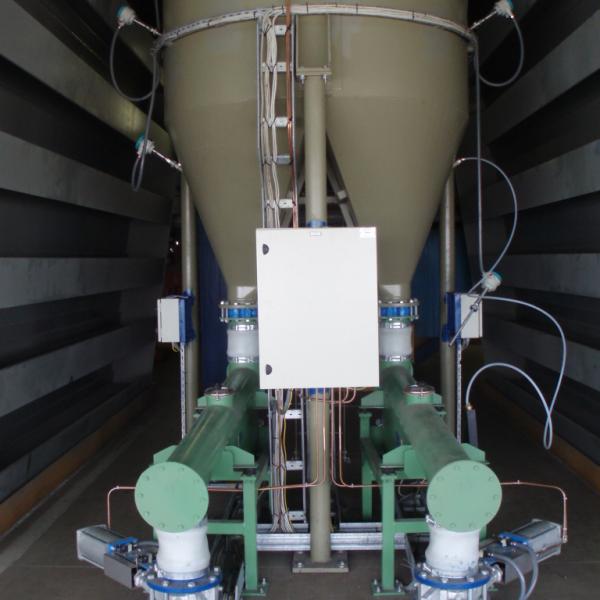 The fly ash obtained with the MAR® systems has received the AENOR Certification stating that the chemical/physical characteristics comply with the applicable European standards for reusing in cement and concrete production.
The Customer
Power Station (2x320 MW PCF boilers) located in the northwestern part of Sardinia, Italy.
The Challenge
In 2003, Magaldi was commissioned to design, manufacture and supply 2 dry bottom ash handling systems (MAC®). Afterward, in 2007, the Customer awarded Magaldi with a contract for the supply of 2 MAR® systems to upgrade the MAC® systems in order to recycle the dry bottom ash back to the combustion chamber of Units#3 & 4.
The Solution
The Customer has reported that the MAC® - MAR® systems have been operating at a satisfactory level of reliability since the commissioning. It has never been necessary to shut down the boiler due to any Magaldi equipment failure. The installation of the MAR® systems has not caused any wear issues to coal mills, burners internals, boiler furnaces tubes, and ESP.